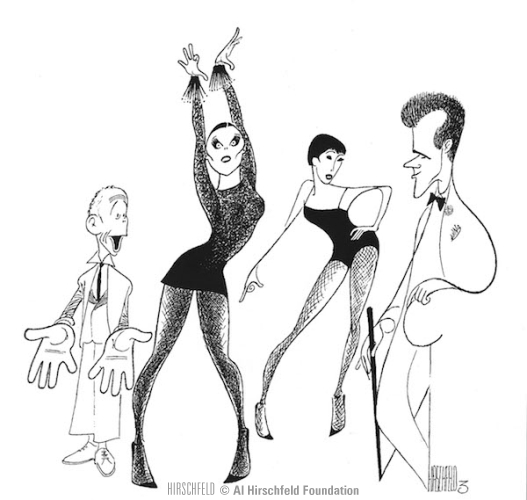 City Center as seen by Hirschfeld
» New York City Center & NY Public Library for the Performing Arts
Exhibition Dates:
Tue, 2018-10-23

to

Sat, 2019-03-02
On the night of December 11, 1943, New York City Center was dedicated by Mayor Fiorello La Guardia with the mission of bringing the performing arts to the widest possible audience. As the first performing arts center in Manhattan, the fledgling institution broke new ground by presenting dance, music, theater, and opera under the same roof—setting the mold for the presentation of the arts around the country in the second half of the 20th century. Two new exhibitions in New York explore the rich cultural history of City Center, and each includes a gallery of Hirschfeld drawings, prints and reproductions.
City Center is where George Balanchine established New York City Ballet and where Leonard Bernstein conducted his own orchestra for the first time. Carol Channing and Bernadette Peters made their New York stage debuts there; Beverly Sills and Plácido Domingo became stars there; Chicago, the longest running American musical on Broadway, came back to life there as part of Encores! series. It is where history was made when, for the first time, African American performers were offered contracts to be members of major opera and dance companies.
Over six decades, Al Hirschfeld saw virtually every major theatrical production at New York City Center. Beginning with Volpone in 1948, Hirschfeld drew more than 40 City Center productions over a half-century, and his artwork was often used to publicize shows and sometimes, whole seasons. No other artist so thoroughly documented City Center's offerings over the last seventy-five years. His drawings form a marvelously evocative archive of limited-run City Center productions that survive in almost no other form.
The first exhibition is at City Center itself, where visitors can see a variety of archival installations that greet you as soon as you walk into the lobby. You can learn the Leading Ladies of City Center, Jerome Robbins' history at the venue, murals celebrating the Encores! series as well as their wonderful Fall for Dance Festival, and take a peek backstage in the form of backstage show boards, designed and autographed by the cast and crew of each production—a unique tradition that they are sharing with the public for the first time. Right off the lobby is a gallery of 13 Hirschfeld artworks including images of Carmen Jones, Orson Welles as King Lear, and the legendary French mime, Marcel Marceau, who made City Center his New York home for decades. This exhibition will be up through the entire 2018-2019 season.
Nearby at Lincoln Center at the New York Public Library for the Performing Arts, there is another free exhibition celebrating the 75 years of performances at City Center that is on view through march 2nd. In addition to the many wonderful pieces of ephemera and objects from the eight decades of shows, a sumptuous dance mural featuring many of the legendary dancers and dance companies that have performed at City Center, and a special installation on musical theater there, on the second floor of the show is another gallery of 15 Hirschfelds that include Paul Robeson's Othello, Jose Ferrer in four different shows in one season, the debut of the Grand Kabuki in America, as well as portraits of Beverly Sills, Merce Cunningham, Martha Graham, Paul Taylor, and Twyla Tharp.
Although Hirschfeld only drew one Encores! production—Chicago—he was a regular presence at the series 'Sunday matinee performances, where he witnessedthe rebirth of numerous musicals that he had drawn intheir original Broadway runs. What was Bob Fosse really like in Pal Joey? How did Barbara Cook and Farley Granger reinvent The King and I? The answers lie in these originalink drawings, prints, and reproductions. Both exhibitions are free and open to the public so visit them, and perhaps stay a show in the New York's greatest performing arts centers.
David Leopold , Creative Director