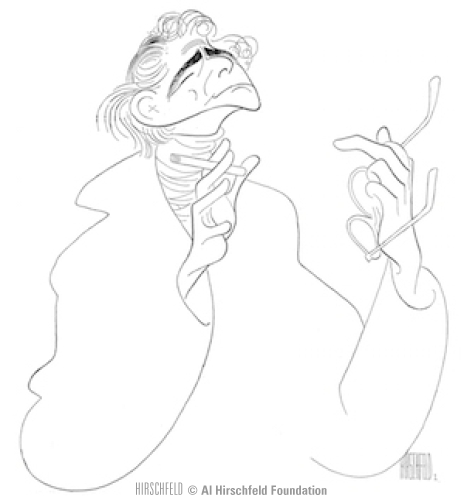 Leonard Bernstein At 100
» New York Public Library of the Perfomring Arts
Exhibition Dates:
Fri, 2017-12-08

to

Sat, 2018-03-24
In November 1944, Al Hirschfeld sat in a nearly empty theater behind the creative team of a new musical featuring the music composed by a an orchestral conductor who had become a musical sensation almost exactly a year earlier, when conductor Bruno Walter had fallen ill and his assistant, this 25 year old man, was obliged to take the podium for the nationally broadcast concert. That young man was Leonard Bernstein, and Hirschfeld was at a rehearsal of Bernstein's first Broadway show, On the Town, with lyrics and libretto by Betty Comden and Adolph Green, based on the ballet, Fancy Free by another young man who was ready to take the world by storm, Jerome Robbins.
Hirschfeld drew the rehearsal, which showed Bernstein conferring with producer Paul Feigay and director George Abbott, the first of 22 drawings he would draw of Bernstein over the next 58 years. The two would become friends and Bernstein kept a 1955 Hirschfeld drawing of himself on the walls of his Dakota apartment until the end of his life in 1990.
This year marks the centennial of Bernstein's birth and a new exhibition organized by the Grammy Museum, Leonard Bernstein at 100, celebrates America's greatest classical composer and conductor. Drawing from more than 150 photographs, personal items, papers, scores, correspondence, costumes, furniture, and films, including four Hirschfeld portraits, and his classic image of the original 1957 Broadway production of West Side Story and the final scene of the 1961 film adaptation that the artist drew to promote the United Artists film. Leonard Bernstein at 100 marks the official exhibit of the centennial and is the most comprehensive retrospective of Bernstein's life and career ever staged in a museum setting.
Items on display also include: Bernstein's conductor baton; his first childhood piano; the desk used to compose West Side Story, and handwritten score sheets for songs from West Side Story, including "America," "Tonight," and "Maria."
In addition to objects and multi-media presentations, the exhibit includes a number of interactive displays, designed to allow the visitor deep access into Bernstein's creative mind and music legacy. A listening bar enables visitors to explore some of Bernstein's most noted works; and a vocal booth gives visitors the chance to sing lead in West Side Story. Another interactive breaks down the parts of a symphony for greater understanding of Bernstein's greatest orchestral works, while a specially designed interactive gives visitors the opportunity to step into Bernstein's conducting shoes and lead the New York Philharmonic. There are Bernstein home movies, interviews with contemporaries and colleagues, clips of his most noted stage works, segments taken from Bernstein's famous Young People's Concerts, and performances with the New York Philharmonic.
Leonard Bernstein At 100, premiered at the John F. Kennedy Center for the Performing Arts in Washington, D.C. Now on at The New York Public Library for the Performing Arts through March 24th, it will travel to the Skirball Cultural Center in Los Angeles , where it opens on April 26, 2018.