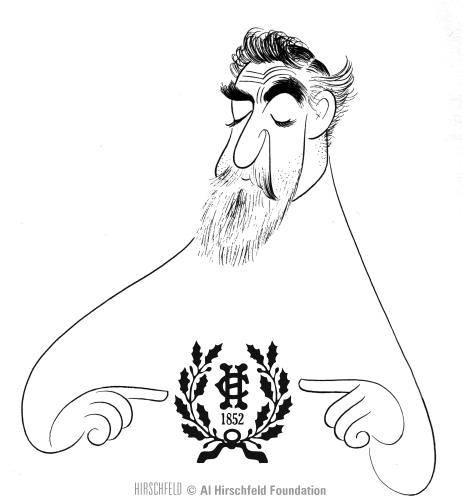 Hirschfeld at the Harmonie Club
» The Harmonie Club, NY, NY
Exhibition Dates:
Wed, 2019-10-23

to

Sat, 2020-02-01
The Al Hirschfeld Foundation has partnered with the venerable Harmonie Club in New York to mount an exclusive exhibition of prints and drawings for their members. In addition to the 23 pieces in the show ranging from the original cast drawing of Noel Coward's Blithe Spirit to an etching of Albert Einstein, there is an ongoing series of special events including talks, a Sunday brunch featuring "Where's NINA?" newspapers filled with drawings; a special night featuring performers such as Dana Ivey (drawn seven times) discussing what is what like to be drawn by Hirschfeld in different performances; and a special holiday pop up gallery which will feature even more prints and drawings.
On December 11, 2019, the Harmonie Club will host a special afternoon and evening that will bring even more lithographs and etchings to the Club, just in time for the holiday season. Hirscfheld Foundation friends who RSVP (details below) will also be able to view the special pop-up and the exhibition on the evening of December 11. 
To see this special exhibition or attend events, please contact us at info@alhirschfeldfoundation.org. We hope to see you at the Harmonie.