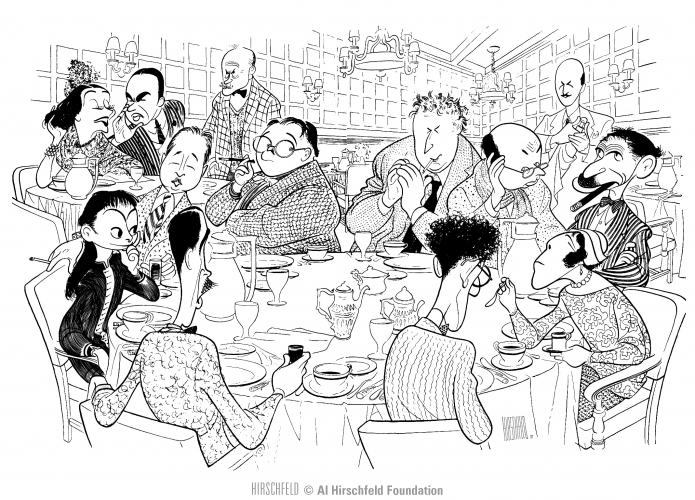 Hirschfeld's Algonquin Round Table on Broadway
» The Algonquin Hotel, NYC
The Algonquin has played a role on Broadway even longer than Hirschfeld's 76-year run. To celebrate the Round Table's Centennial, the Algonquin presents Hirschfeld images of selected productions that the Vicious Circle wrote, directed, or starred in on the Great White Way. The stage lines they wrote for their plays and musicals were as incisive, and frequently as funny, as any line they delivered over their ten-year lunch. And a number of their works continued to be performed around the world to this day. As many know, Hirschfeld's artwork became as much of a part of the Broadway experience as opening night itself. His drawings of the American Theater over nine decades, which included many Tony winners and nominees, earned him two lifetime achievement Tony's, and eventually a Broadway theater renamed in his honor in 2003. 
"The Algonquin Hotel Celebrates Hirschfeld's Algonquin Round Table on Broadway" installation will open on June 24th for the Algonquin Round Table's centennial year. This exhibit will mark the 5th year The Algonquin Hotel and the Al Hirschfeld Foundation have partnered on an exclusive exhibit. It features 22 three feet tall images of Round Table members and their shows hanging atop the iconic Lobby Lounge's oak paneling. Covering decades of theatre history, drawings include the show considered to be the first musical—Show Boat--Kaufman and Hart's classic You Can't Take it With You, and the Marx Brothers on stage, as well as single portraits of lyricists, composers, and writers next to their works. 
This exhibition also revisits some of the original drawings of Round Table members from our very first exhibition at the Algonquin in 2014.  His celebrated group portrait of the Round Table so iconic it was featured in their Encyclopedia Britannica entry, and a copy of the group portrait hangs in the hotel's Al Hirschfeld Suite. 
This exhibition is free and open to the public. Come in to enjoy a cocktail with friends and see larger than life Hirschfeld drawings celebrating the centennial of one of New York's most iconic landmarks.