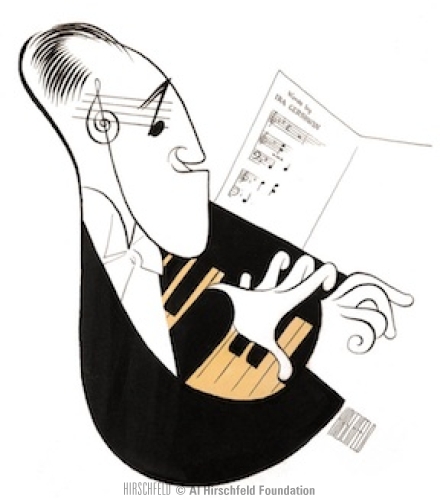 Hirschfeld's Jazz and Broadway Scrapbook
» St. Louis, MO
Exhibition Dates:
Fri, 2012-09-07

to

Sat, 2013-01-05
"St. Louis is where Al was born and first contracted what he called, a 'sickness for drawing'. We are so delighted that he is returning, in style, to his hometown."
Al Hirschfeld's Jazz and Broadway Scrapbook, the first retrospective of the artist to be mounted in his hometown, will feature more than 100 original drawings, paintings, prints, collages, posters and ephemera from his long and important career. and reveals a heretofore unexplored lifelong fascination with jazz. In addition to his artwork, the installation will feature his specially made stereo system, his extensive jazz record collection, and African drums and Balinese shadow puppets from his home.
Born in 1903, Hirschfeld attended Clark Public School in St. Louis. His art teacher encouraged the family to move to New York in 1914 and there Hirschfeld honed his skills as an artist. Hirschfeld rose quickly to become the court portrait artist for the theatre and film worlds including 75 years attending Broadway plays and drawing performers for The New York Times and myriad other publications. Hirschfeld received received two lifetime achievement Tony Awards, and had a Broadway theater named in his honor on what would have been his 100th birthday in 2003. A 1996 documentary about Al Hirschfeld, The Line King, was nominated for an Academy Award.
The exhibition features drawings from as early as 1914 through 2002. Beginning with a career overview, the first section of the exhibit features one of his earliest extant works, a beautiful drawing of the Clark Public school in St. Louis as well as a rich panoply of some of his most iconic works, including portraits of Carol Channing and Laurel and Hardy. A separate section of the exhibit focuses on his work in jazz and includes luminaries such as Jelly Roll Morton, Johnny Mercer, Louis Armstrong, Duke Ellington and Benny Goodman, among many others. "Al Hirschfeld recorded jazz like no LP, tape, compact disk, or MP3 ever has," says curator and Hirschfeld archivist David Leopold. "Like his subjects, he improvised with pen and ink, taking basic forms and transmuting them to make an altogether beguiling portrait of jazz."
The exhibition will represent the most important musical and theatrical figures of the 20th century, providing an overview of this beloved artist's memorable career and bringing this important artist "home" in the largest Hirschfeld exhibition to date in St. Louis. The exhibition will also run concurrently with the American Arts Experience – St. Louis, which for 17 days and nights, beginning October 5, will fill concert halls, museums, theaters, universities and outdoor spaces in the St. Louis area with dozens of performances and shows by renowned American artists and companies in disciplines ranging from symphonic music to jazz and singer-songwriters, theater by American playwrights and dance by American companies to major American visual artists. The American Arts Experience – St. Louis is an annual festival each October celebrating all mediums of American arts. Visit www.AmericanArtsSTL.org for more information.
The not-for-profit Sheldon Art Galleries exhibits works by local, national and international artists in all media. Over 6,000 square feet of the galleries' spaces on the 2nd floor are permanently devoted to rotating exhibits of photography, architecture, jazz art and history, and children's art. A sculpture garden, seen from both the atrium lobby and the connecting glass bridge, features periodic rotations and installations, and the Nancy Spirtas Kranzberg Gallery on the lower level features art of all media. The Sheldon actively supports the work of St. Louis artists in all mediums and features a dedicated gallery with museum-quality exhibits by St. Louis artists, past and present.