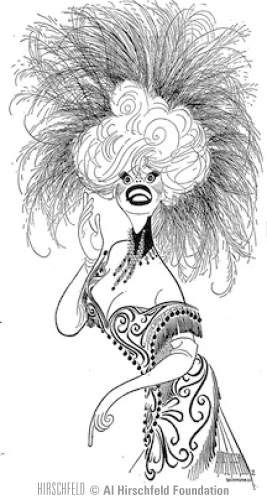 Hirschfeld's Broadway Scrapbook
» New York Botanical Garden
Exhibition Dates:
Sat, 2011-03-05

to

Mon, 2011-04-25
The name Hirschfeld is synonymous with the Broadway and for good reason. His drawings of the players and productions have long graced the pages of New York newspapers, especially the New York Times with which he has had a seventy five-year relationship. They also have appeared on playbills, posters, and advertisements for productions all over the country. For this work he was celebrated around the world, earned two "Tony" awards for lifetime achievement in the theater, and his name was made a verb of recognition. To be "Hirschfelded" was a sign that one had arrived. Over nine decades no one saw and/or recorded more of Broadway than Al Hirschfeld. Today he remains a fixture on Broadway, immortalized as the namesake of the Al Hirschfeld Theatre.
Hirschfeld looked with an artist's eye, but with a journalist's intent, to capturethe unique American achievement we call Broadway. His contribution, Hirschfeld said, was to take the character, created by the playwright and portrayed by the actor, and reinvent it for the reader. Hirschfeld created not only a fascinating archive of Broadway, but one that gives viewers, then and now, a real sense of the performance and personality of the actors who inhabited these roles. For almost all of this work, Hirschfeld drew the productions before they received critical acclaim, often in out of town tryouts or rehearsals. Unencumbered by what others thought of the productions, he was free to observe plays as intended by the writer and his or her theatrical team.
Now for the first time, a selection of these original ink drawings, prints, posters and related ephemera, culled from the Al Hirschfeld Foundation Collection, on a wide range of Broadway shows including Hairspray, Rent, Angels In America, Hello Dolly, My Fair Lady, and The Front Page, are assembled under one roof to give visitors a contemporaneous account, drawn from life, of the history of Broadway in the 20th and 21st century. Works range from 1928 to 2002 capturing classic musicals, dramas, comedies, and their creators such the Gershwins, Stephen Sondheim, Neil Simon and Edward Albee. There's even a special section devoted to Broadway botanical delights such as House of Flowers, Desire Under the Elms, andInto the Woods.